Hyde disposable vape is currently one of the most popular closed pod systems in the United States after Puff bar. Previously, we reviewed many good disposable vapes, such as Vozol Mesh Stick Max, LIO Max Mesh, these all are mesh coil structures. And now we are going to review the Hyde Edge RAVE recharge disposable vape with cotton atomizing core, let's go.
Hyde Edge RAVE Flavors
Hyde rolls out new flavors more frequently compared to many other disposable vape brands out there. From those American feedbacks about Hyde flavors, we found that these Hyde flavors are the most popular ones, they are Pink Lemonade, Blue Razz Ice, Banana Ice, and those mixed flavors like Strawberry Banana, Strawberry Ice Cream, Aloe Grape, Strawberry Kiwi.
Hyde Edge RAVE Recharge is a rechargeable disposable vape with a 600mAh battery inside, it supports Micro USB charging, while it is not included in the retail package. The prefilled 10ml e-liquid capacity makes it up to 4000 puffs. There is no doubt that Hyde Edge RAVE Recharge comes with the largest capacity among all its products, and it is also the latest one after the Hyde N-BAR.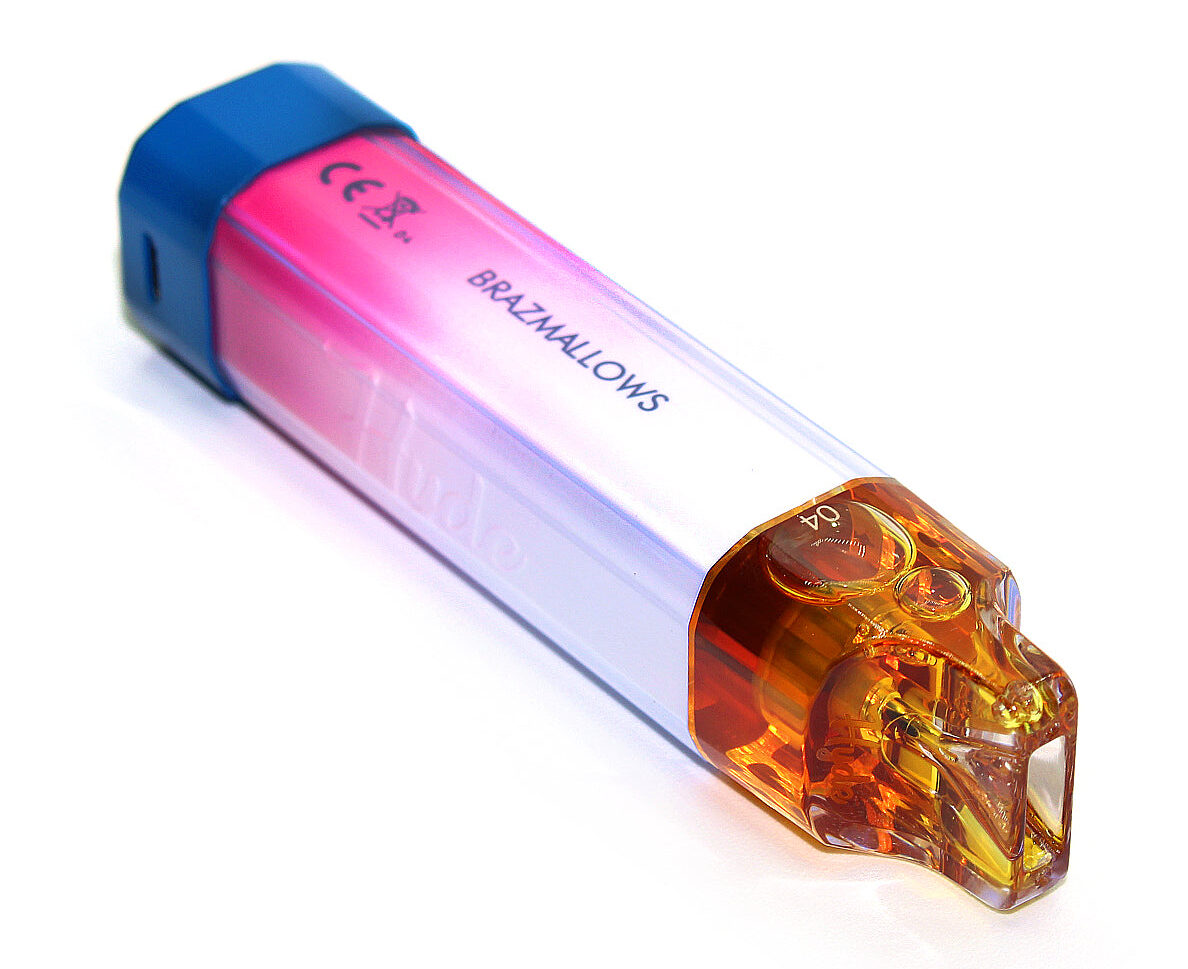 Hyde Edge RAVE Specifications
E-liquid capacity: 10ml
Nic strength: 50mg
Battery capacity: 600mAh (Micro USB)
Puffs: 4000 puffs
Buy Hyde Edge RAVE Recharge from ziipstock.com
Flavors: Peach Mango Watermelon, Banana Ice, Blue Razz Ice, Sour Apple Ice, Raspberry Watermelon, Bananas & Cream, Strawberry Kiwi, Tropical, Minty O's, Summer LUV, Cherry Peach Lemonade, OJ, Peach, Mango Peaches & Cream, Energize, Caribbean Colada, Blue Razz Lemonade, Brazmallows, Dewberry, Strawberry Ice Cream, Loops, Philippine Mango.
Hyde Edge RAVE Build Quality & Design
Hyde Edge RAVE Recharge disposable vape comes with a beautiful packaging box, which is transparent so that you can clearly see the product inside clearly. From the package outside, the information includes the flavor name, product name, and warning words.
The product itself has a similar size to Hyde Edge, cubic shape. Yet the difference between them is Hyde Edge RAVE mouthpiece is colorful. The mouthpiece color differs from each flavor, in addition, it is transparent enough to monitor the e-liquid inside. When you put it into your mouth, then it perfectly fits your mouth due to its flat drip tip design, actually I myself prefer the flat drip tip rather than the round one.
As for the main body, it is mixed with two colors like Hyde Edge, but the Hyde Edge RAVE Recharge looks high-end. On the front side of the main body, it is printed the logo Hyde, another side is with flavor name and CE symbol. Another feature for the main body is composed of two levels, the outer level is a transparent part, and the inside level is likely to be a plastic material. At the end of the body, it is wrapped with a colored ring, and on the ring part, it comes with a Micro USB charging port. When it comes to the bottom of the product, it is designed with an adjustable airflow system, but before vaping it, the silicon sticker of the bottom should be ripped off.
Hyde Edge RAVE Performance
About the performance, we are going to tell from two aspects, one is from the flavor taste and airflow, the other one is from the leakage and battery life. The flavor I bought is banana ice because this is the flavor I always try with other different disposable vape brands and I'm very familiar with it.
Hyde Edge RAVE Flavor and Airflow
The taste and smell of banana ice are just like the natural banana, a little bit sweet, but due to 50mg nic salt, it could be sweeter. Airflow is completely mouth-to-lung style with small vapor, and when I try to adjust the airflow, the vapor amount changes with the airflow adjustment. That is to say, when being half airflow, the vapor is less and the flavor is a little shrinking; when full open airflow, the draw is so smooth, and you can feel the strong throat hit by the 50mg nic salt if you are a heavy smoker, then this should bring you greater satisfaction. The product body part will blink with several lights when you are vaping, if you do not want lights on when vaping, just click the button from the bottom, this will save battery life.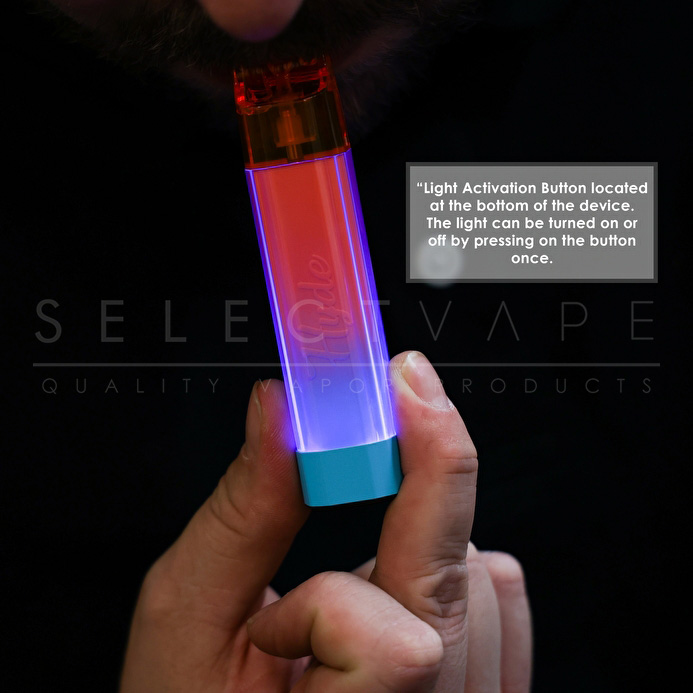 The interesting thing is after I vaped for one day, it blinks light from the bottom and this reminds me to recharge the device, otherwise, you will obviously experience less vapor amount and less flavor. When it is charged for about one hour by a Micro USB charger, the flavor and vapor amount recover to the level that I vape for the first puff, this kind of situation usually does not happen on a precharged disposable vape. In addition, from the first puff to running out of the last e-juice, it lasts about two weeks. However, puffs are not 4000 puffs like it announced,  it is around 3500-3600 puffs. I also clearly remembered that it was recharged 3 times in total.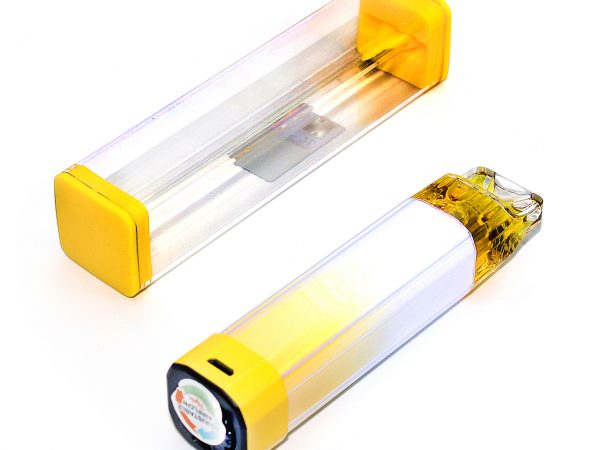 Hyde Edge RAVE Battery Life and Leakage
Hyde Edge RAVE is a built-in 600mAh battery capacity when I got the product, I do not charge it firstly, I just take it and vape it, Fortunately, it lasted about one 1.5 days before my first time of charging. When it comes to charging, the charging speed is not as quick as I expected. It needs about one and half hours for full charging, this is just because it is designed with a Micro USB port if Hyde wants to update for this product, I wish they have to change it into a Type-C port to make it to be perfect. What surprised me is that from the first puff to the last puff, I did not experience any burnt taste and e-juice leaking, I guess it is because the cotton coil and internal structure are of high quality.
Hyde Edge RAVE Pros and Cons
Pros
-Easy to use
-Large E-juice capacity
–Adjustable airflow
Cons
-Micro USB charging
Summary
Hyde Edge RAVE is Hyde's latest disposable vape with a built-in 600mAh battery capacity and supports Micro USB charging. Prefilled with 10ml vape juice capacity, it lasts about two weeks of daily vaping. The colorful transparent pod allows you to monitor the e-liquid level at any time. Combined with the adjustable airflow function and RGB light, it is absolutely an interesting disposable vape on the market. If you are switching from smoking to vaping, we recommend you to take a try on the Hyde Edge RAVE.