Junyu is a factory located in China that produces CBD gummy-making machines. The reason why we introduce this factory today is that the factory contacts us to publish the following post to help more clients who need to make CBD gummies themselves.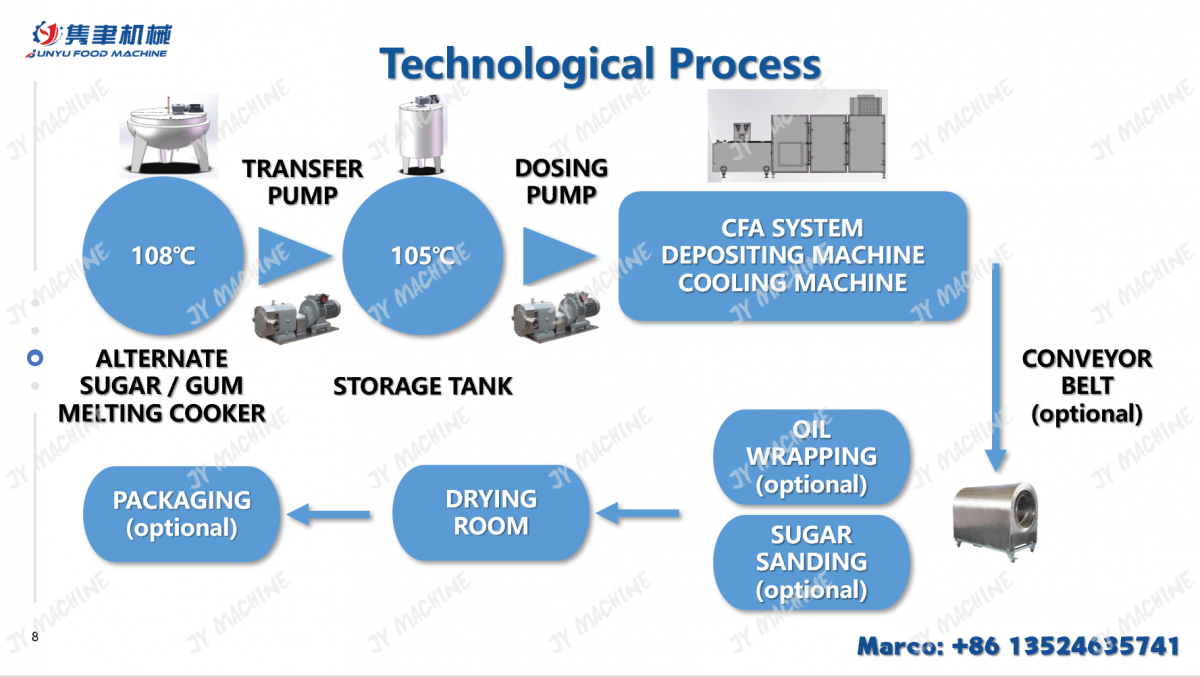 Its jelly/gummy candy making machine can reach to maximum 2 tons/hour and can also produce 4-color candy at the same time. The starch-free process is more hygienic and less costly than alternative processes.
2&3D design and shapes are welcomed for different creativity
Its an ideally machine suited to the fast-growing gummy vitamin, supplement and sports nutrition markets with higher accuracy and temperature control system,Jellies and gummies can be made economically and at high quality by Junyu starch-less depositing process.
Technical parameter:
Model
JYJ-40
JYJ-80
JYJ-150
JYJ-300
JYJ-450
JYJ-600
JYJ1200
Capacity
(kg/hour)
20-40kg
50-80kg
150kg
300kg
450kg
600kg
1200-2000kg
Depositing speed
(times/min)
15-35
15-35
15-35
15-35
15-35
15-35
15-35
Advantages:
✔ All the electric parts are using the international brands for longer life.
✔ Design with fully automatic/semi-automatic based on your budget.
✔ Unique Color flavor and aid adding system for adding Like:vitamin CBD, THC, etc….
✔ Provide unique design for 2D or 3D shapes by different material such as silicon or metal…
✔ Center filling or multiple colors one candy
✔ Control by PLC programming system for different language.
✔ Electrical parts with international brands for longer service life
✔ Warning signs of hidden parts and protection for safely using
✔ Double layer insulation temperature holding system
✔ Main frame and body is made of stainless steel
✔ Cleaning function and drain pipes for easy operation
✔ Under CE certificate, and reaching to the GMP standards.
✔ Sugar sanding & oil &wax coating
More RFQ about candy depositing machine
Q: How many types of the gummy candy this machine can make?
A: Junyu factory can make single color, double color, 3D shape, 4D shape, etc.
Q: Can the machine make different candy?
A: Yes, Junyu factory offers customized mold including the design and production.
Q: Can I make chocolate too on this machine?
A: No, as this is our standard machine for making candy.
Q: How many pieces of gummies you can make in one hour?
A: At least 21600pcs in one hour.
Q: What's the capacity of candy machine do you need?
A: Normally Junyu factory can provide the capacity from 40-2000kg per hour.
Q: What's the candy shape and size your machine can make?
A: Whatever candy you need, Junyu factory provide you customized shape and size.
Q: Which gum base do you use? By pectin, gelatin or carrageenan?
A: For gummy candy, it is different processing based on the different raw material.
Q: Which heating? Electric heating or steam heating?
​​​​​​​ A: Junyu factory can provide electric heating or steam heating according to customer's environment.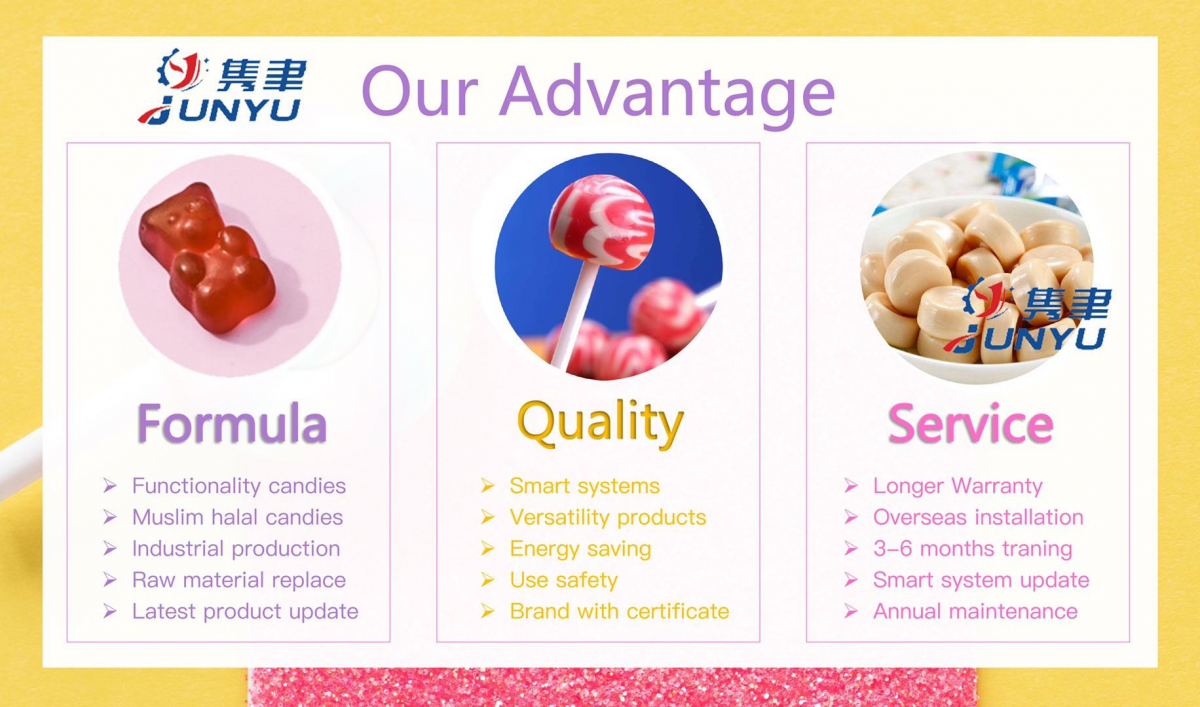 Why Buy Machine from us – Manufacturer
Real factory not trading company
​​​​​​​         Let's have a factory tour with you.
Professional
Our factory has more than 40 years machine manufacturing experience.
There are 12 drawing designers and 20 professional engineers which can offer your technical support anytime and anywhere.
Reliability
Modern factory has more than 200 workers.
With strict quality control system, advanced Germany standard
Machining CNC center provide precise technology process to handle every detail of each machine.
Our professional engineer team offer you the best plan according to your requirements.
High Quality Machines
All machine made in GMP standard factory
Junyu factory have the CNC center to keep the machine precious
All machine use SUS304 and sandblasting surface coating handling

What can Junyu factory do for you?
Factory layout
3D design & project plan
Customized shape design
Product formula
Contact the Junyu CBD machine factory: add Wechat account mc1024630150
Shops: