Speaking of Dovpo, everyone will think of a series of classic devices.
Whether it's the BPMODS series co-produced with Bruce
Or Clutch X18 Dual 18650 Mechanical Mod,
They all received much attention and love among vapers.
Today we take a look at the latest Abyss AIO 60w Kit to see what kind of surprise it brings us.
DOVPO brand introduction
Established in 2012, Shenzhen DOVPO Technology Co., Ltd is specialized in R&D, manufacturing, marketing and service of electronic cigarettes. Since the foundation, Dovpo has always been devoted to developing various electronic cigarettes for consumers.
DOVPO's  vision is to offer innovative vape devices to the market, to be an industry-leading brand.
DOVPO's mission is to be a reliable partner to our customers, to make the best possible devices for vapers!

Abyss AIO kit brief view
The Suicide Mods Abyss AIO kit comes standard with the Nautilus Coil adaptor bridge but additional bridges for the Caliburn G, EUC, PnP/GTX, Nord Coils and ETHER RBA Bridge can be purchased separately, the Abyss is also compatible with all Billet Box Bridges, not only will you be spoilt for choice with what bridge/coils to use you can also remove the integrated tank section and add the Side By Side Kit (Sold Separately) which will allow you to turn you AIO kit into a Side By Side device, delivering a maximum output of 60w this is sure to tick a few boxes for most users.
The body of the Abyss is CNC'd Aluminium creating a lightweight but sturdy device, the fire button is situated in a place that makes for a ergonomic grip and feel, the OLED Display screen is placed on the base of the device as not to spoil the overall sleek look with additional screens and buttons.
The overall look and feel of the Abyss AIO can also be changed with the purchase of the button kits that are available in Square and Round in 3 different finishes, the 18650 Tubes that are available in smoke and frost, the integrated drip tip kits that are available in white delrin or black delrin and lastly the Glass pack which has 3 different colours (Smoked, Clear, Ultem)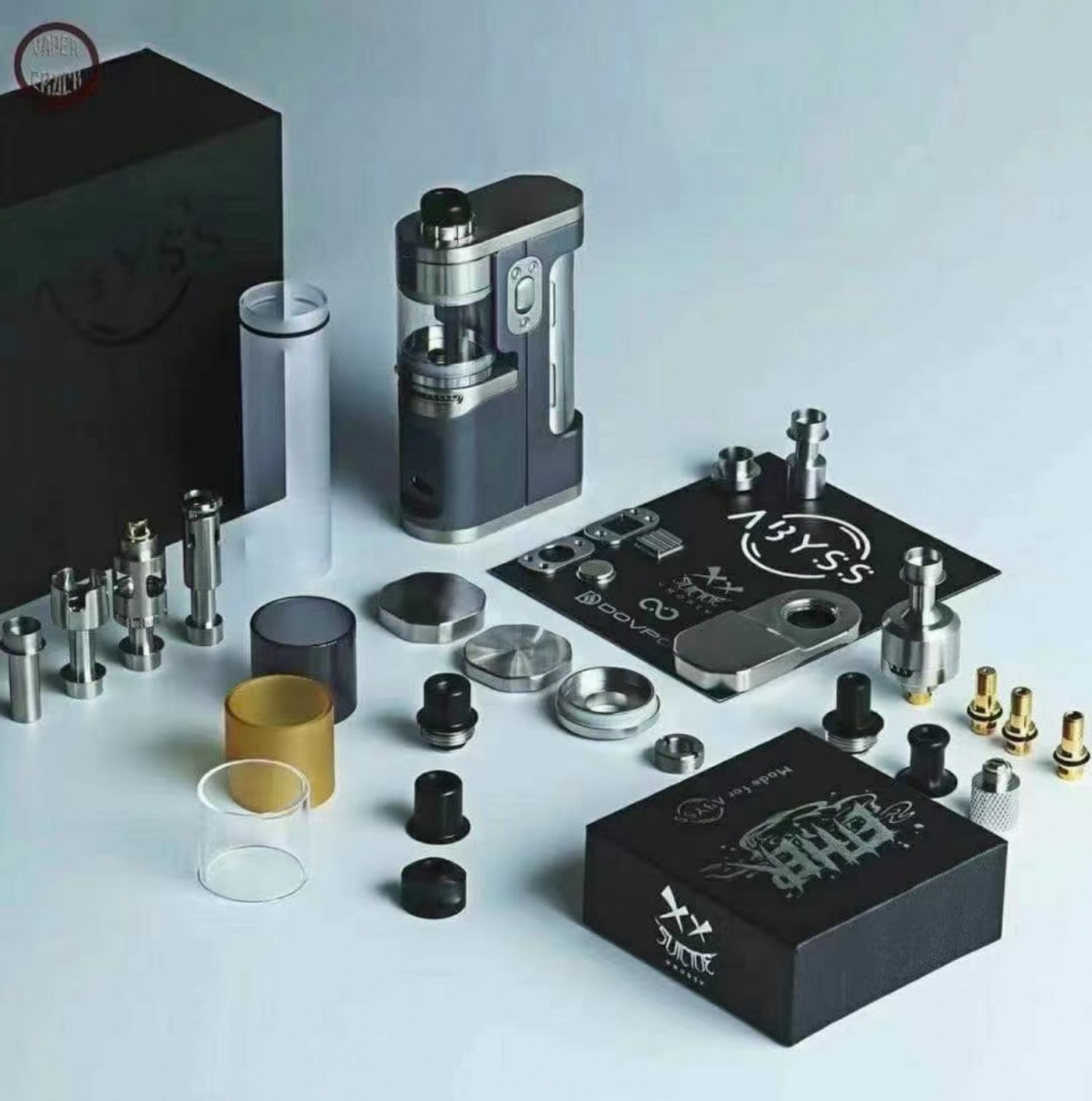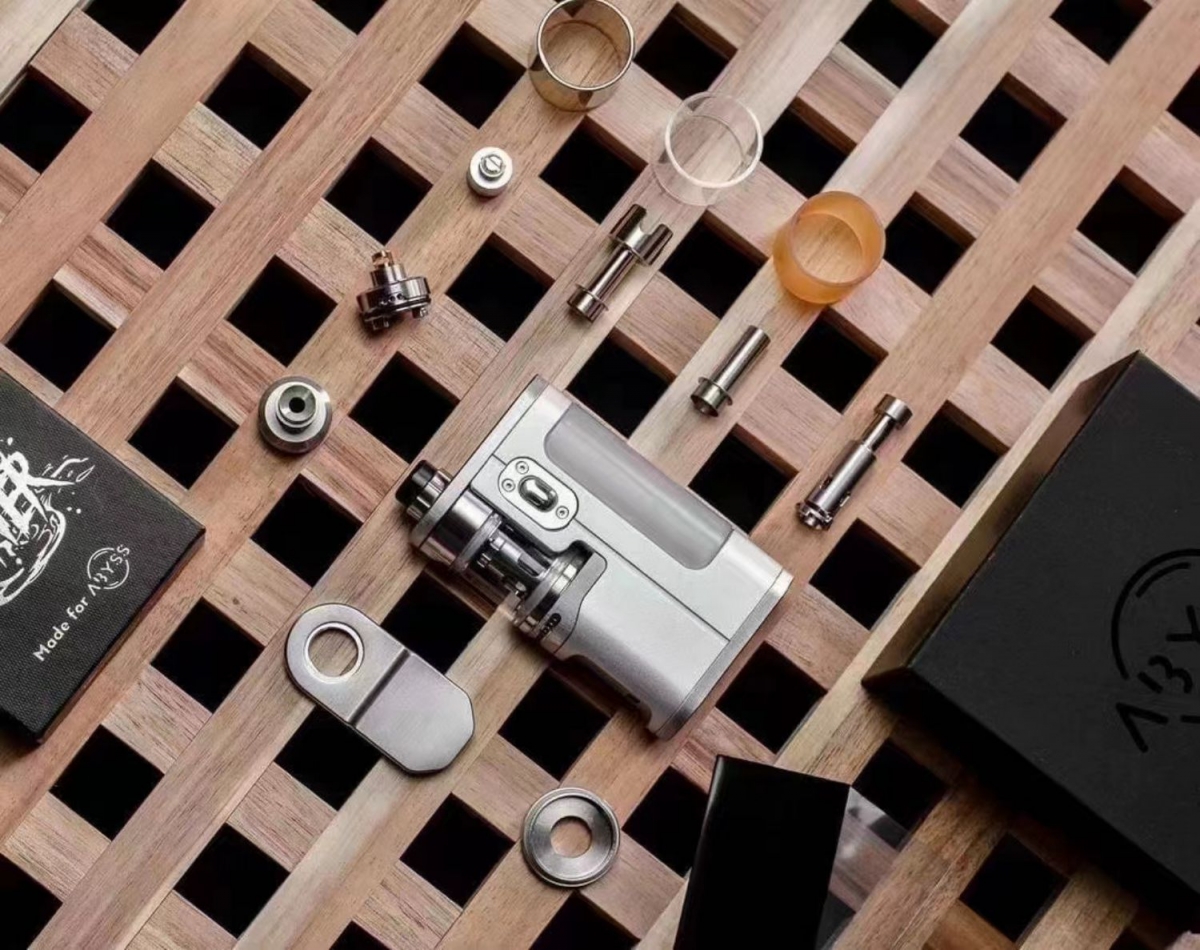 Abyss AIO kit package content
1 *  ABYSS AIO Device
1 * 21700 Battery Conversion Plate
1 * Nautilus Coil Adapter Bridge
1 * Accessory Bag
1 * 21700 Battery Cover
1 * USB-C Cable
1 * Battery Usage Warning Card
1 * User Manual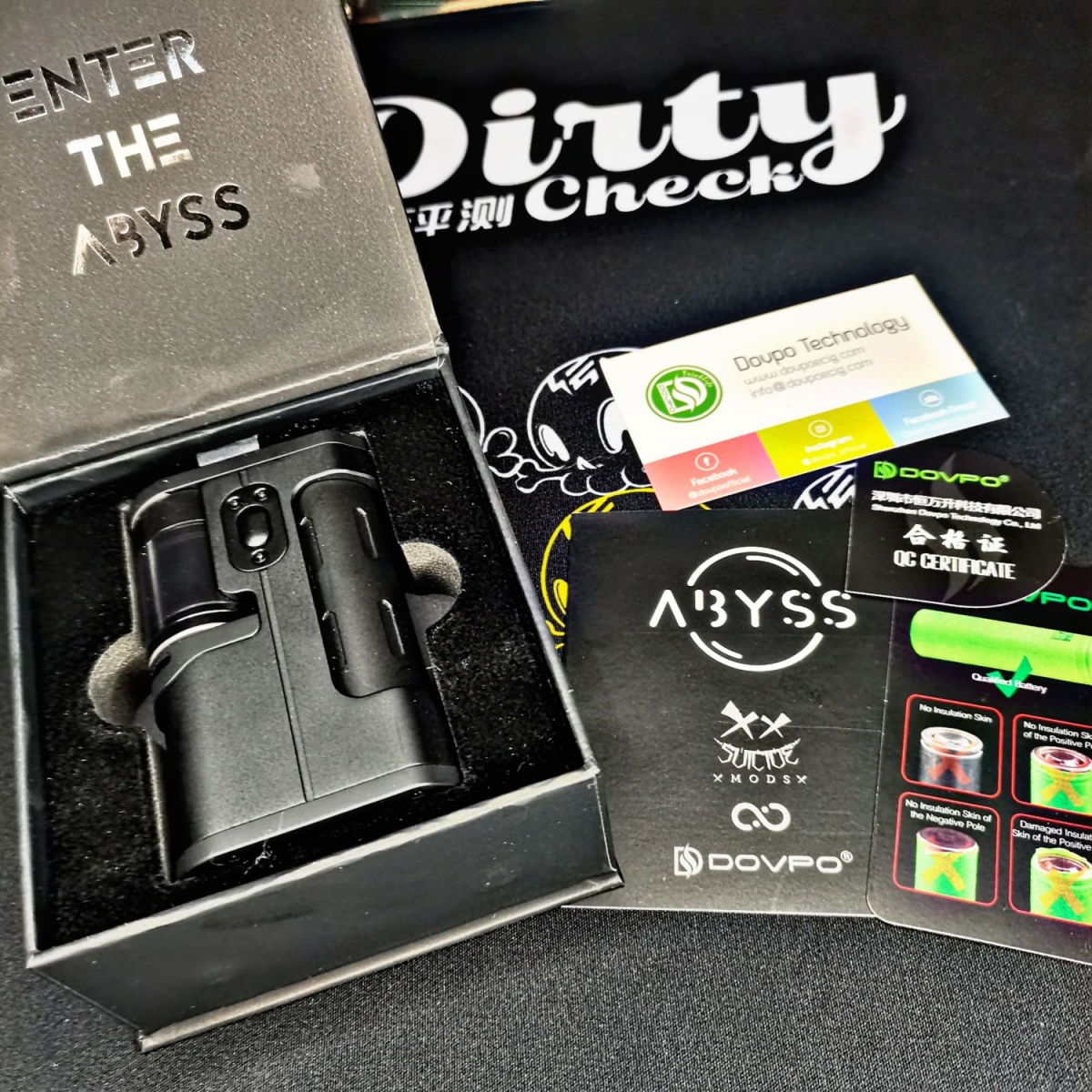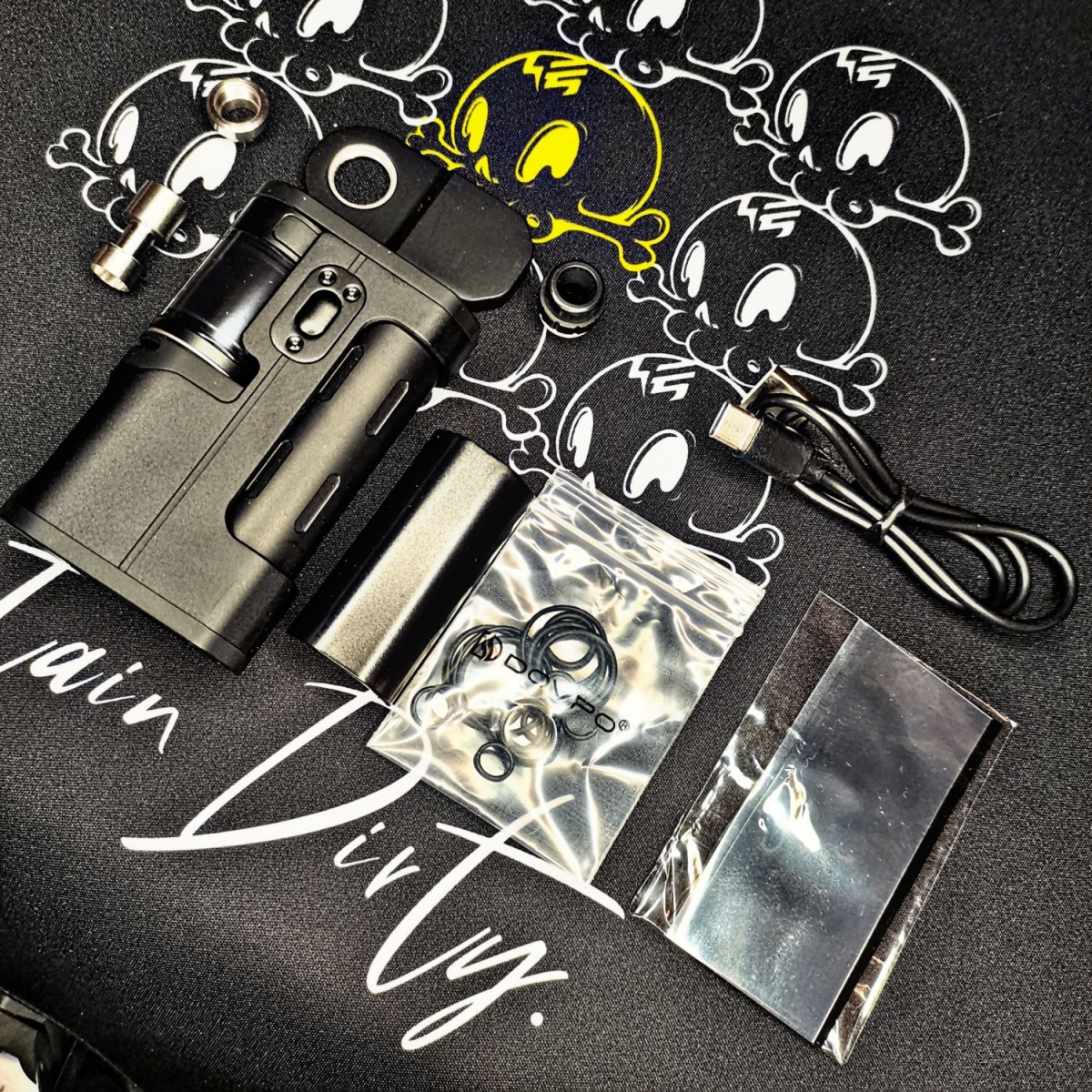 Abyss AIO kit specifications
DOVPO Chipset
Dimensions – 83mm by 53mm by 25mm
Single High-Amp 18650 Battery – Not Included
Wattage Output Range: 5-60W
Voltage Output Range: 0.8-8.0V
Resistance Range – VW: 0.08-3.5ohm
Resistance Range – TC: 0.10-3.5ohm
Temperature Range: 200°-600°F / 100°-315°C
Setting Memory
VW Mode
Bypass Mode
TC Mode
Aluminum Alloy & Stainless Steel Construction
Intuitive Firing Button
OLED Display Screen
Two Adjustment Buttons
Adjustable Airflow System
Refillable Tank
Side Fill System – Silicone Stoppered
Versatile Coil Options
Short Circuit Protection
Low Voltage Protection
Temperature Protection
10S Overtime Protection
Reverse Battery Protection
USB Type-C Port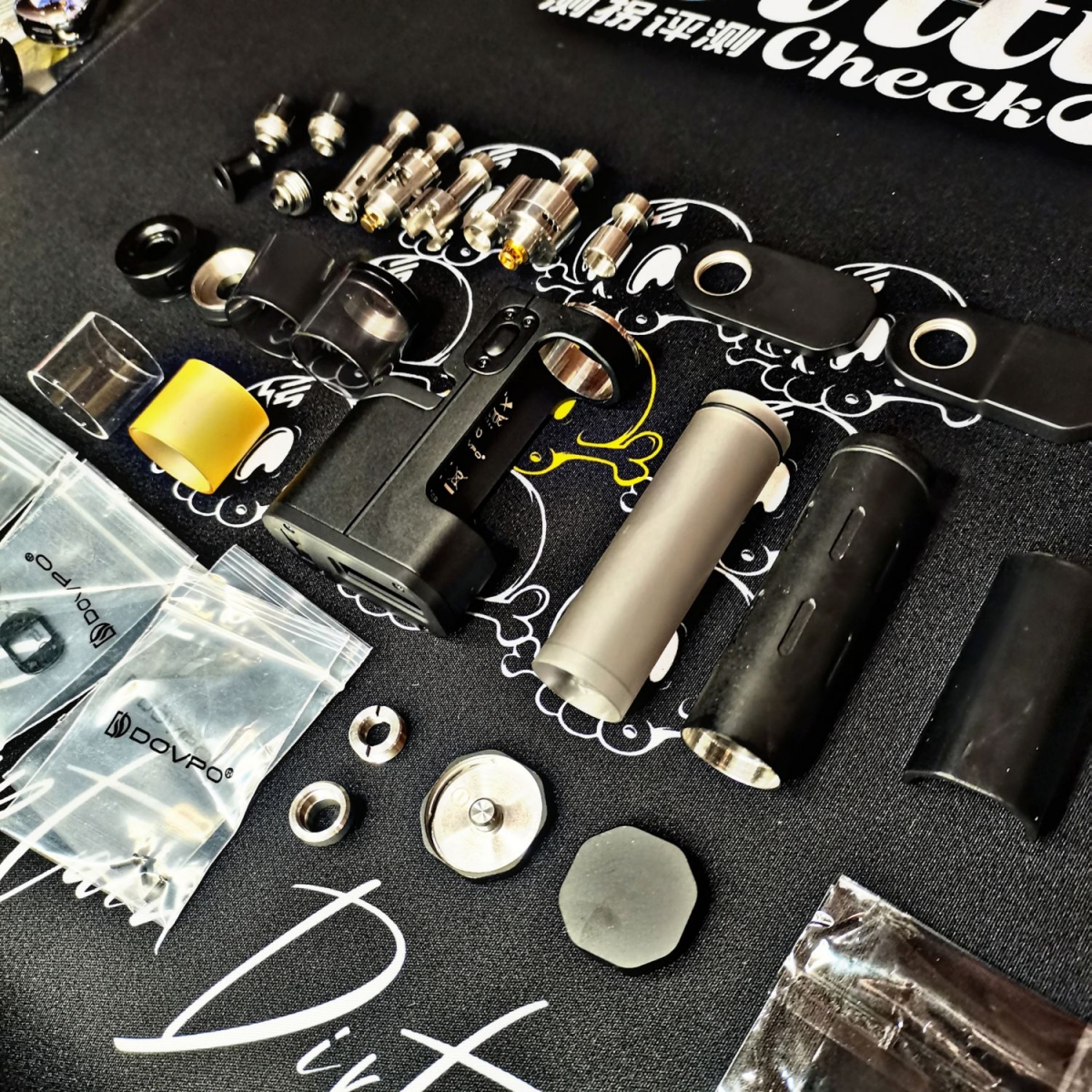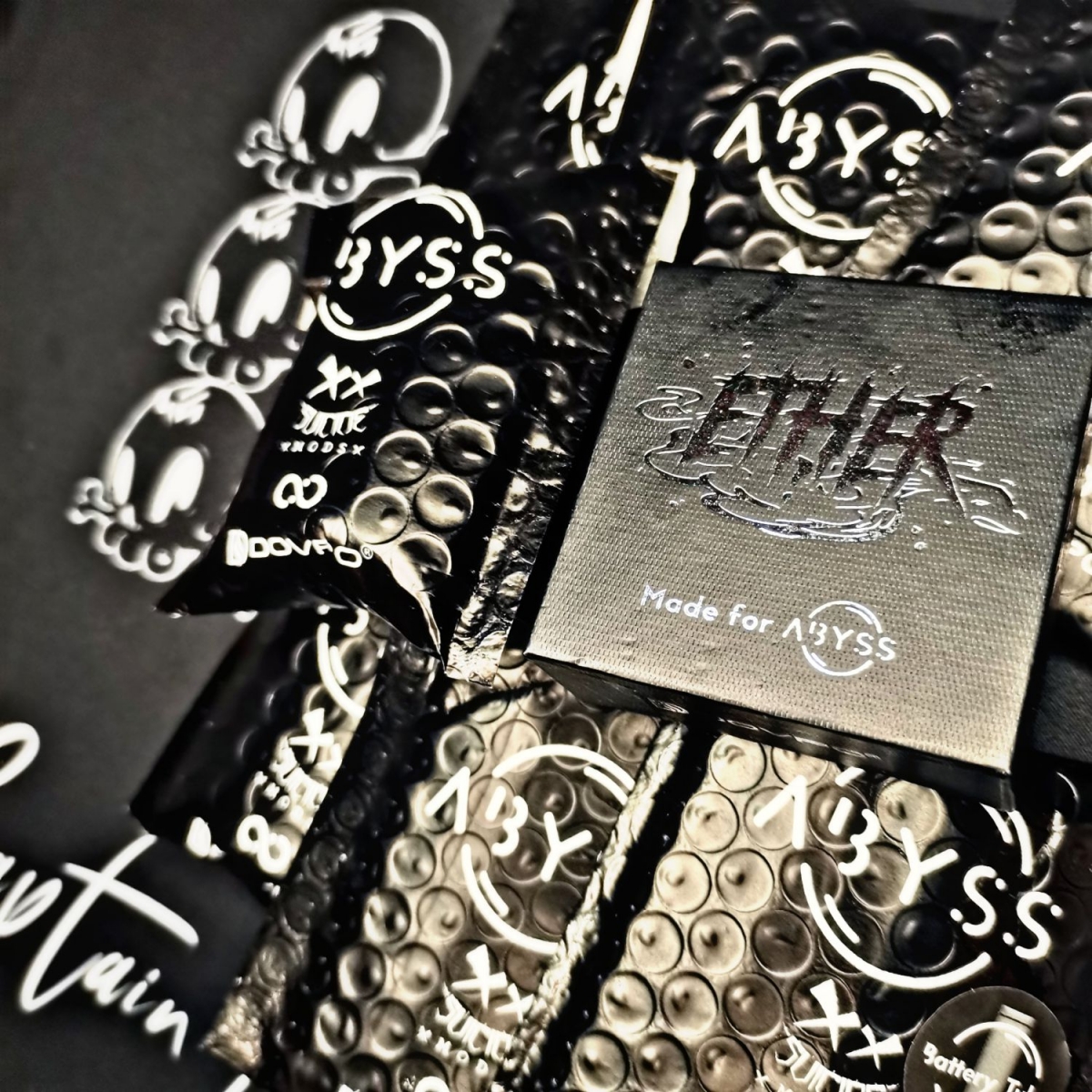 Abyss AIO kit colors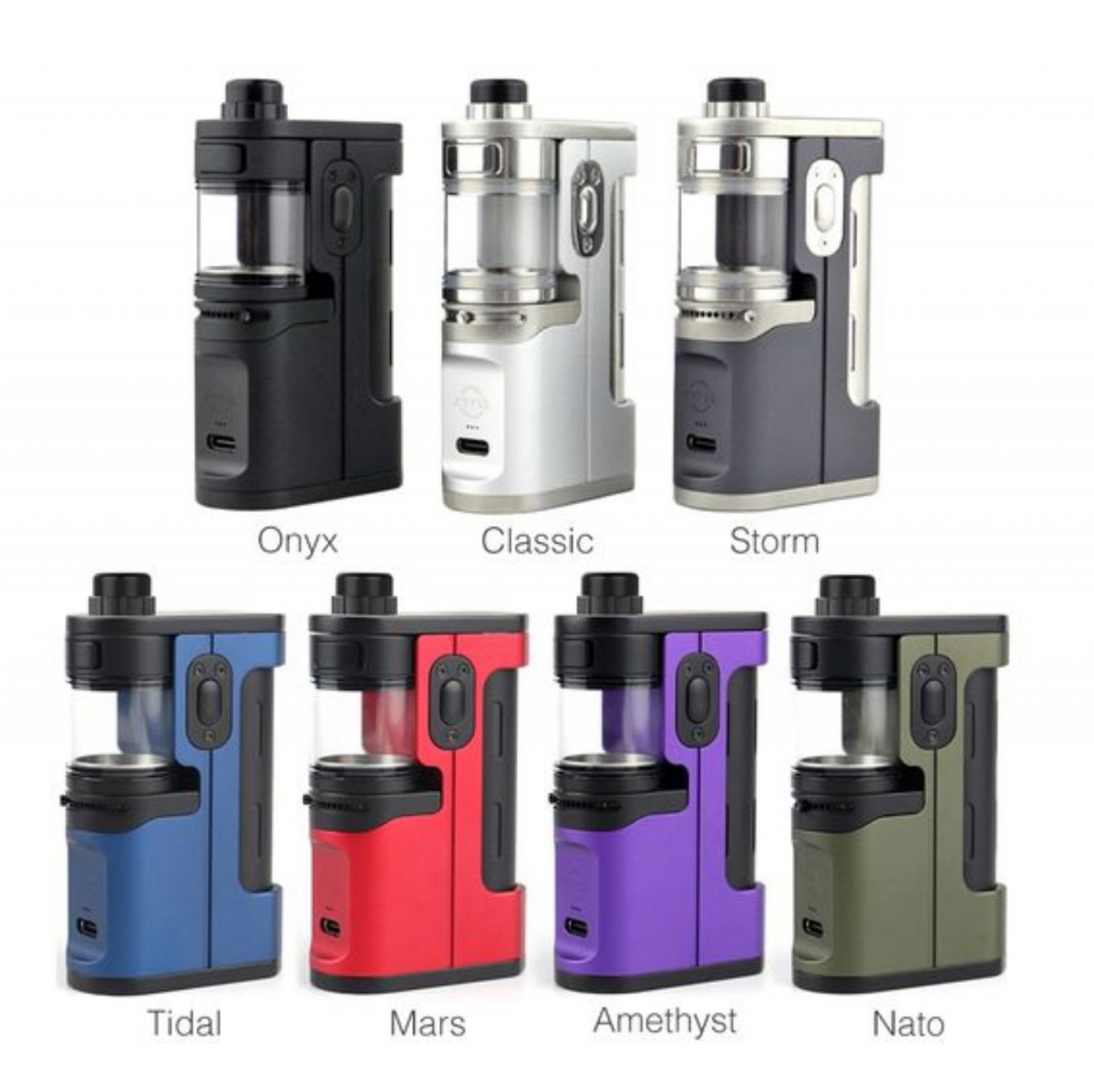 This is a device similar to a multifunctional sleeve,
Compatible with the popular coils on the market.
It includes the self-configuration capable of DIY.
The appearance can be adapted to multiple modification schemes.
You can even connect the 510 atomizer you want.
It can be vaped with the taste, settings and personalized DIY you want.
Function and performance and even battery life give you enough space to have fun.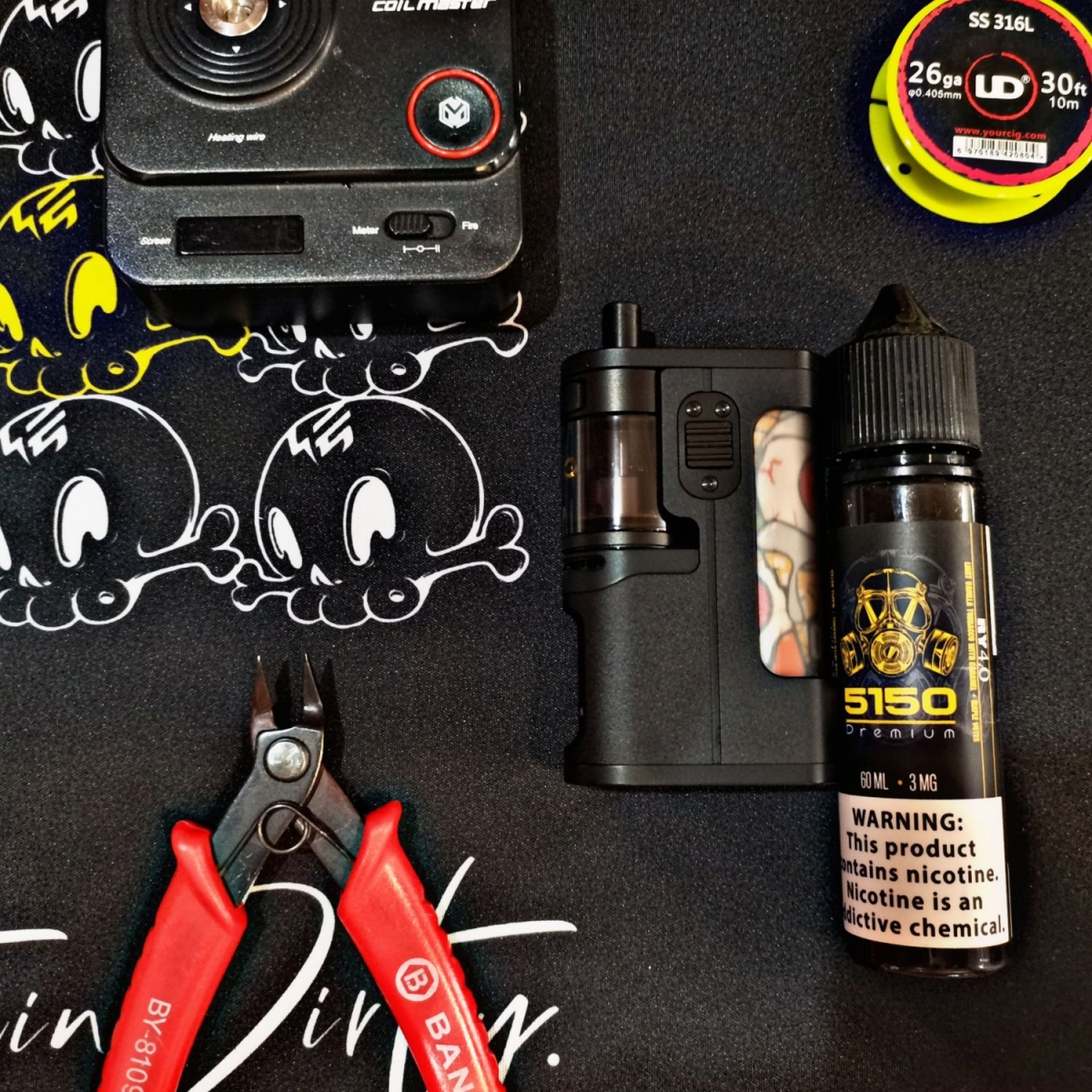 Abyss AIO kit pros
1. There is a lot of room for modification DIY.
2. Good material selection and ergonomics design, sophisticated workmanship,
3. Excellent performance and configuration, can be equipped with popular coils on the market, and maintain the excellent taste
4. The process details are excellent, the tolerance is controlled strictly, and there is no problem of jamming and mismatching of adaptation.
5. Excellent air intake, enough holes to provide the most reasonable solution for the coil setup with the corresponding air intake.
Abyss AIO kit cons
1. The air inlet adjustment is very blunt, and it takes a very large force to adjust it, which is very laborious
2. The device body is generally slightly heavy.
3. The resistance of RBA flatuate too much from the 510 burning process to the installation.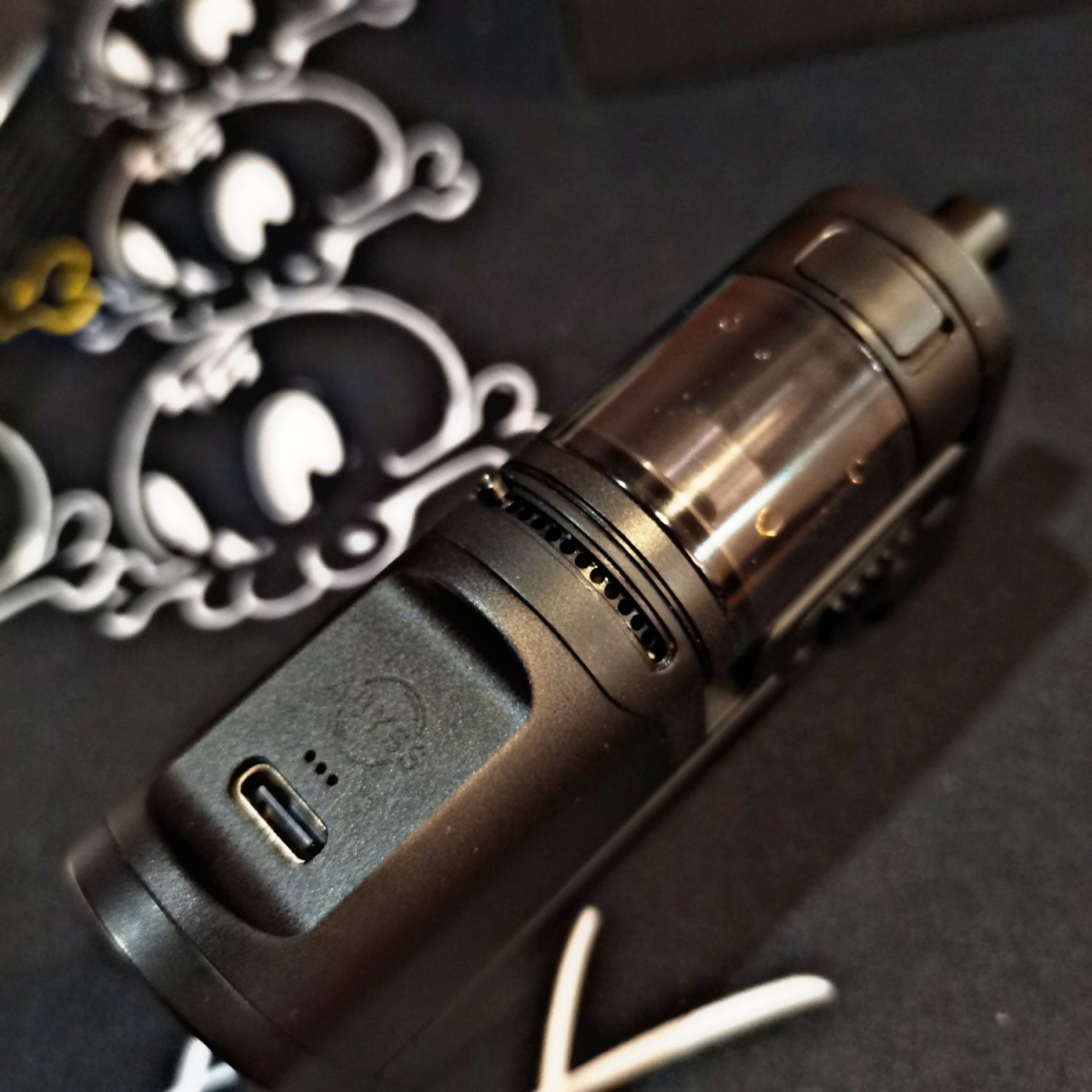 Verdict
ABYSS is one of the best device so far in terms of functionality and beauty.
Many people will compare it with BB-BOX,
Compared to BB-BOX ABYSS is better, because BB-BOX is extended in a rectangle
And ABYSS is an extension outside of the body, which has already won the taste, performance and even the air intake are very good.
The unfriendly point is that new vapers need to find an adjustment plan that suits their own suitable coils to realize the best taste.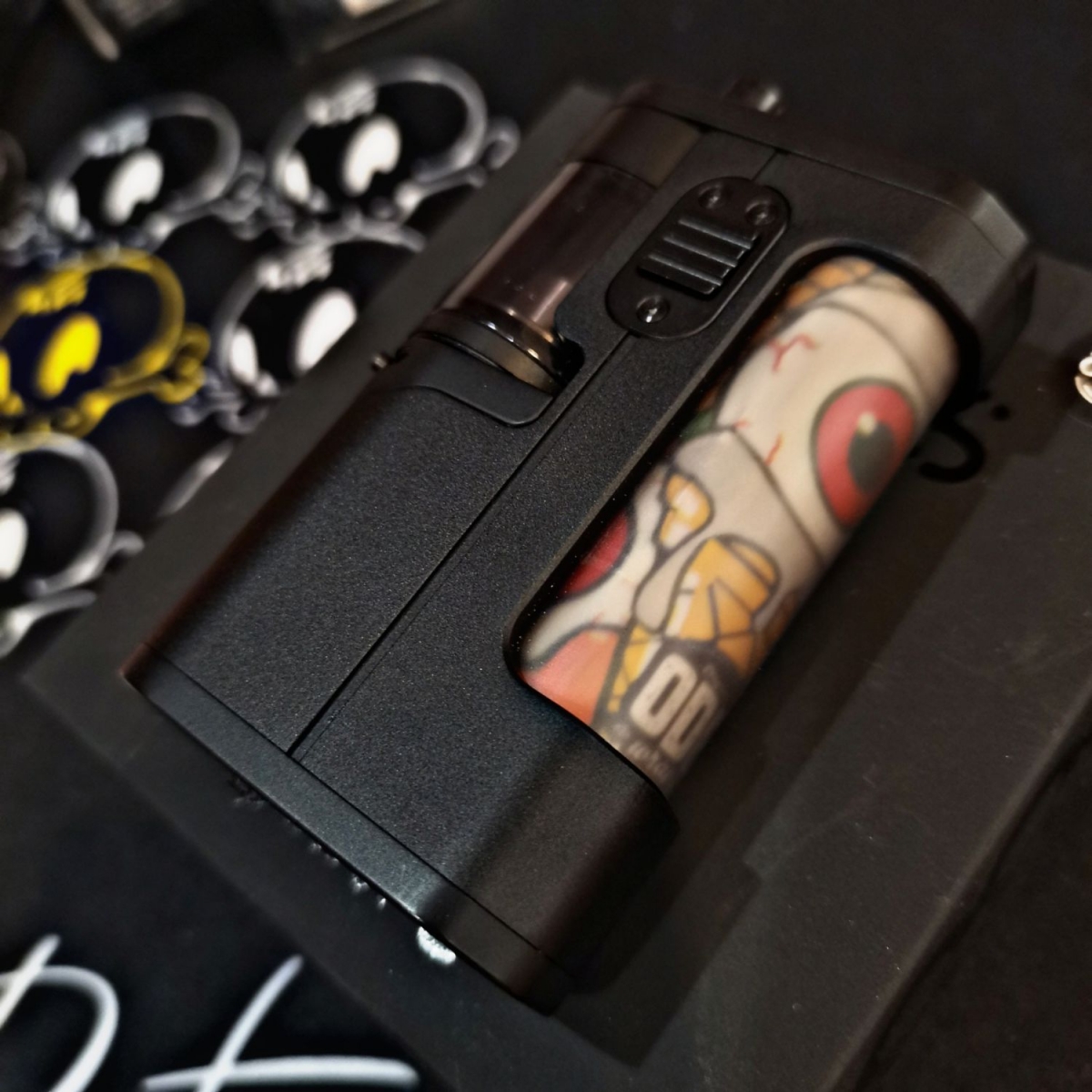 Overall, ABYSS is really a very cost-effective good device.
And it's deserved to be called one of the top 10 vape boxes in 2021.
And it will be more fun if there is an uninterrupted RBA-type cover later.
This excellent device Abyss AIO kit is worth having a try.
VAPE HOW WE ROLL, ALL IN TRUETOY
I'm Captain Dirty, see you next time!