On May 14, according to news from Jiwei, the stock transfer system announcement, Guangdong Sigelei Electronic Technology Co., Ltd. (stock abbreviation: Sigelei) recently submitted an application to the agent company to terminate the listing of shares on NEEQ. According to the provisions of the "National SME Share Transfer System Business Rules (Trial)", agent company now decides to terminate the listing of its shares from May 13, 2021.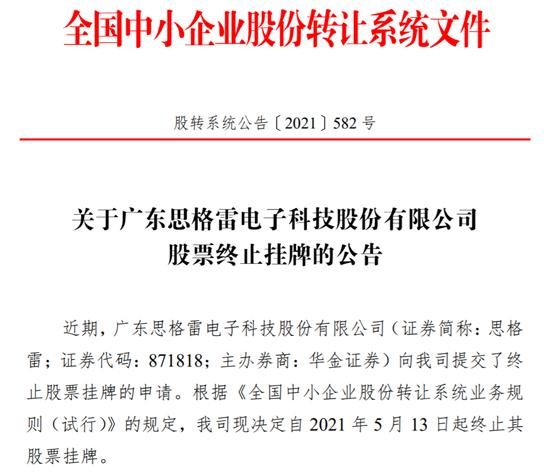 Regarding the reasons for the delisting, Sigelei said that in order to adapt to the company's long-term strategic development plan, to meet the company's own business development needs, and to integrate resources, improve operating efficiency, and reduce operating costs, after careful consideration, the company shareholders have a strong willingness to terminate the listing; the company intends to apply The company's shares were terminated from the national SME share transfer system.
According to data, Sigelei was established in 2013 and listed on the New OTC in August 2017. It is the chairman unit of the Electronic Cigarette Industry Committee of the China Electronic Chamber of Commerce. It is an international brand enterprise integrating R&D, production, sales and service. A leader in the global e-cigarette industry; Sigelei has incubated six world-class brands such as SIGELEI, SNOWWOLF, FUCHAI, VCIGO, KAOS, COMPAK, etc. after 10 years of accumulation in the international market. Canada, Australia, Russia, the Middle East and Southeast Asia have become the leader in the global electronic atomizer industry.
In 2020, Sigelei will strongly return to the Chinese market and establish Shenzhen Wuji Technology Co., Ltd.; committed to building a global leading brand of atomization technology! Let smokers around the world choose a healthier lifestyle.
In the first half of 2020, Sigelei achieved operating income of RMB 33,179,400, a decrease of 55.23% from the same period last year, and operating costs of RMB 31,137,400, a decrease of 44.25% from the same period of the previous year; the company's net profit was -9,656,300 yuan, a decrease from the same period of the previous year. 466.45%.