On May 7, the leading vape brand Myst Labs released a new product Hero Mini series. The first batch of 3,141,592 Hero Mini will be given to users for free, and it is expected that a total of 10 million pieces will be given away.
As the mini version of Myst Labs' flagship product HERO, Hero Mini uses HERO's core hardware and body materials to create the same vaping experience as HERO. At the same time, it will also become the only entry-level pod system with 6-series aviation aluminum material.
In addition, Hero Mini is equipped with a variety of customized device stickers with the theme of Blood Hero, and users can create their own Hero Mini.
With this new product release, Dr. Chenyue Xing, the chief scientist of Myst Labs and the inventor of nicotine salt, announced a new non-nicotine salt formula – Nicotine Y has entered the second stage of formula debugging from the laboratory stage. Nicotine Y breaks through the previous model of acid-base neutralization of nicotine technology. It removes organic acids from e-liquid for the first time and uses other key components of natural tobacco to optimize the nicotine transmission efficiency while making the taste closer to natural tobacco without the need for flavors. You can experience the taste similar to a cigar.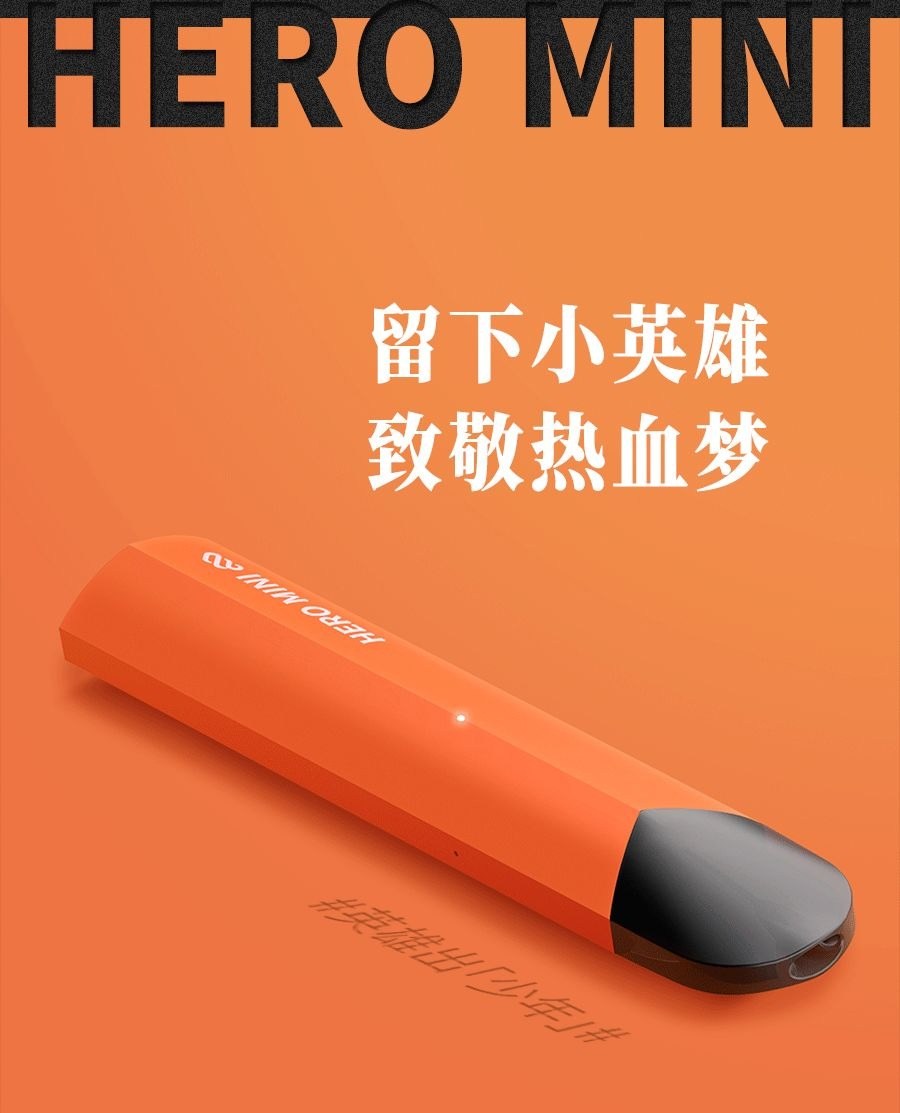 As one of the inventors of the global e-cigarette revolutionary technology nicotine salt, Dr. Xing Chenyue brought the e-liquid research and development technology back to China from the United States, and iteratively upgraded it in China. In April 2020, Myst Labs released Nicotine X, the next generation of nicotine salt dedicated to e-cigarette nicotine technology. Since then, China's own nicotine technology has made a breakthrough: Nicotine X is the first to reduce the nicotine content of a single pod to 1.7%, which is comparable to the taste of 3% nicotine content. 1.7% is converted into a mass ratio of about 20mg/ml. And Myst Labs' R&D technology has been preparing for relevant standards more than a year ago.
In the future, Myst Labs will continue to aim at reducing harm and tar, and develop more of China's own nicotine technology. It will reduce the nicotine content while pursuing the taste of real cigarettes, providing smokers with new options for relieving addiction, rather than becoming a new source of addiction. This move helps the healthy development and growth of the global e-cigarette industry.
With the blessing of its own technology, the flagship product HERO has received rave reviews since its launch, and Myst Labs has taken advantage of the opportunity to accelerate its expansion in China and international markets. At present, the number of Myst Labs China specialty stores has exceeded 1,000, and the number of new stores has been accelerated by over 100 new stores per month, and the number of authorized outlets has also reached 20,000. In the international market, in addition to the original UK and other markets, Myst Labs also accelerated expansion in Russia, North America, and Southeast Asia.
It is reported that Myst Labs recently closed the B round of tens of millions of dollars in financing.